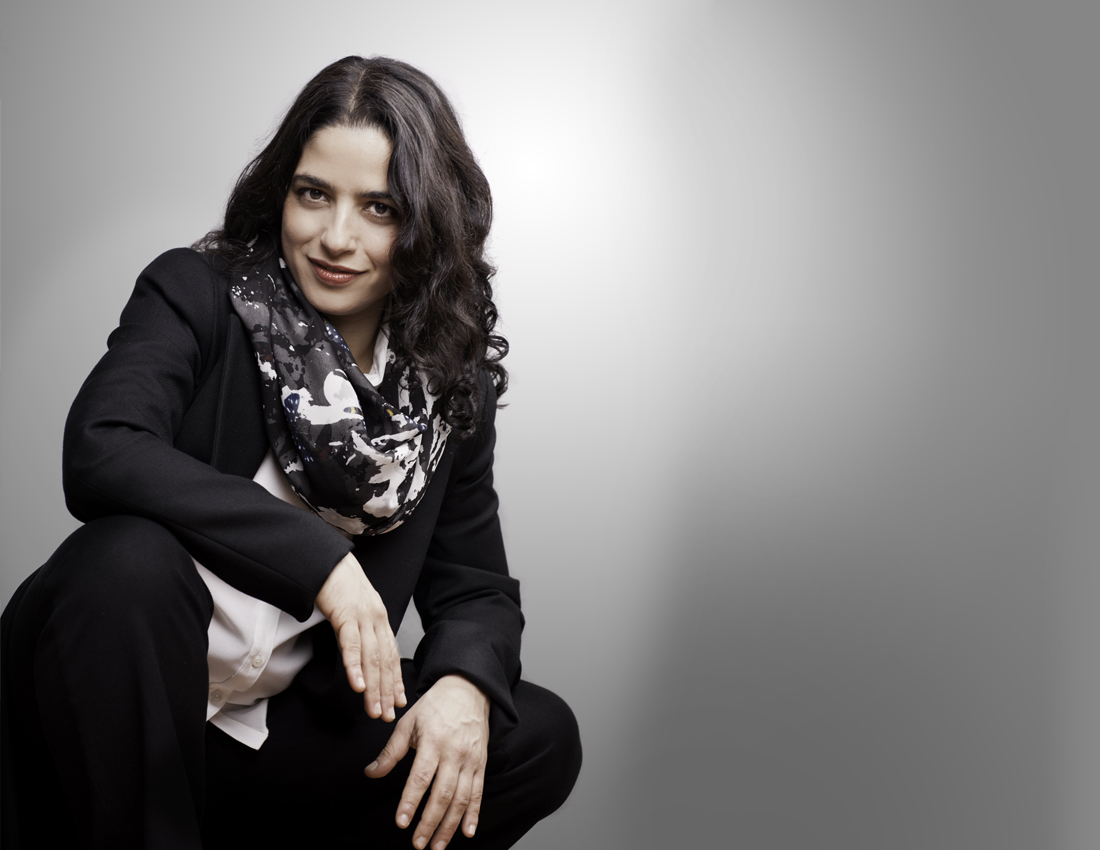 press
Great review for live concert at the Berliner Morgenpost newspaper, by Mario-Felix Vogt
Published on 10.6.2023 at the Berliner Morgenpost"...the Israeli showed herself to be a brilliantly skilled pianist with excellent technique and a profound awareness of structures... Einav Yarden succeeds in shaping the abundance of characters into a great whole. The transparency and clarity are just as impressive as the passionate moments of urgency in her playing, which greatly benefits the highly emotional music of C.P.E. Bach.... The second "English Suite" by Bach's father she interpreted spiritedly with a motoric drive that at times reminded a little of Glenn Gould... The Israeli showed it all the more in the late Brahms pieces [Op. 116], which she performed with romantic pathos and high sense of tonal culture, without neglecting the work's architecture. There was justifiably rapturous applause in the well-attended Piano Salon Christophori, and the pianist thanked them with a witty tango from Stravinsky's neoclassical period." -- by Mario-Felix Vogt
https://www.morgenpost.de/kultur/article238363091/klavier-kostbarkeit-johann-sebastian-bach-vater-sohn-christophori-einav-yarden.html
Wonderful Review for Einav Yarden's Recital at South Windsor Cultural Arts, USA, by Michael Moran
[In regards to two Rondos and a Fantasia by C.P.E. Bach:] "The sharp-edged clarity of her playing recalled that of her teacher, legendary pianist Leon Fleisher...and her buoyant performance [of the C.P.E Bach Variations] made a powerful showcase for this imaginative score... Both the classical rigor of Bach the father and the emotional force of Bach the son were evident in Yarden's protean rendition of Johannes Brahms' 1892 set of seven Fantasies, Op. 116... Yarden displays enormous technical proficiency, unerring interpretive mastery, and a winning stage presence which clearly engaged her capacity audience."
By Michael J. Moran, February 2023
Raving review on Classical Sonoma by Terry McNeill, March 2022
"A crisp and detaché touch gave the [C.P.E. Bach] Sonata's Allegro di molto lift, even as the music jumped all over, and scale playing was always clear and Arpeggios expressive. The often episodic runs in the Presto and the following E-Flat Fantasia mirrored waves of sound, never loud, and the music was intriguing and in Ms. Yarden's hands (and feet) always convincing... many in the audience cheered. It was an ideal joining of a composer's genius with a commanding pianistic performance."
https://classicalsonoma.org/reviews/?reviewid=946


The 'Philadelphia Inquirer' on Yarden's recital at the Philadelphia Chamber Music Society:
"In Philadelphia debut, pianist Einav Yarden is an intruiging personality"
"her personality was strong... a musical personality operating at a high level... She was an ardent advocate for the sweetness in Schumann's Three Fantasy Pieces... I did love her way with this hunting jaunt in which a clear sense of key sometimes slips away like elusive prey [about Haydn Fantasie Hob XVII/4]. She stretched the meaning of those long-held low notes to the point where you think the piece may have ended. Wait for it, her playing said, and then wait some more. Is the hunt over? Yarden is not one for spoilers, and that's a good deal of her appeal."
-- Peter Dobrin, The Philadelphia Inquirer
Hailing review on France's distinguished Diapason Magazine!
CD recieves top raiting of 5 Diapasons: "To attract one's attention to Fantasie op. 17 is easy, to keep it until the last note with relevance is much less simple ... It is difficult to imagine a simpler execution, a more direct one, one that is more in touch with the text.. fluidity and remarkable attention to detail suggest an ideal, made of integrity and idealism. Atmospheres are born, they pass and die in a blinding clarity as much as the articulation, the weight, the balances and the answers from left and right hands become spellbinding... Returning to Fantasie, whose second movement may become a burden if played by less intelligent fingers, Yarden avoids any effect of a heavy march: it advances inexorably towards the triumph of the final measures, leading us to a finale of peace and resignation... It should be emphasized that, on the threshold of this admirable and splendidly recorded piece, Fantasiestücke op. 111 sound as strange, enigmatic, fleeting and sombre as they should be." -- Alain Lompech, "Diapason" (France)
French Magazine Artagmag' in new praising review of Schumann CD:
By Jean-Charles Hoffelé (original in French in the link below):
"Schumann the whimsical? Einav Yarden answers yes,... the fingers are immaterial by force of shadow. This secretive, unapologetic speech, which sings in the depths... tells all about the ultimate Schumann, lost to the world, entirely taken refuge in his music.... The pianist also finds the erased trails in Forest Scenes... beautiful sound of tenderness, touching gesture, an example of this art of suggestion that throughout the collection will be like a journey of eyes wide open in a forest full of surprise, surprisingly simple: listen to Einsame Blumen! It is the stuff of dreams that makes this piano so immaterial, so mobile... The final ode [in the Fantasy op 17], lonely, exhausted, magnificent prelude to a stellar night, will also sing in a moving shadow, unfolding its shades of gray colored. Decidedly, this pianist is a poetess."
http://www.artalinna.com/?p=10833&fbclid=IwAR1wIDtDlcfVwkABkmuCU7cFJQCXFy0vqwr_xbOdaWsGhnCmyXLWWnNAMpc

Enthusiastic review by Carsten Dürer on German Magazine
"The Pianist Einav Yarden resorts to the fantastical whims of Robert Schumann for her third CD, and also with this music is she exactly the right performer. Because Yarden engages herself not with the technical side of the music, but with its sonic-emotional interpretation. Already in the Drei Fantasiestücke op. 111, one can hear the fusion of passion and an after-hearing, a combination indispensable to Schumann, which she uses in order to precisely match the musical expression. Yarden thus succeeds in interpreting Schumann's great youthful-tempestuous Fantasie in C major op. 17, with supreme sensitivity […][about Forest Scenes, op. 82] She executes these pieces with such depth and panache that it's impossible not to listen with bated breath. Einav Yarden is a captivating pianist with a clear vision and a wonderful, convincing sound." -- Carsten Dürer, Piano News Magazine (Sept-Oct 2018)

Praising review of Schumann CD on Haaretz Newspaper
"...The first word that comes to mind after listening to the album, is 'intimacy'. Einav Yarden draws out the lyrical and gentle sides of Schumann in all the pieces of the album... [In the Forest Scenes] she illustrates long, elegant musical lines, and in fact, the measuredness of her expression and sensitivity of her pianistic colors, emphasizes the wealth of imagination and unique magic of the pieces..." -- Amir Mandel, Ha'aretz Newspaper, August 8, 2018

https://www.haaretz.co.il/gallery/music/classicalmusic/classicalmusic-review/.premium-1.6359916
Five Stars for Artistic Merit on Amadeus Magazine, Italy
"Scenes and Fantasies"... is the theme of this elegant engraving, the new recording effort from Israeli pianist Einav Yarden, which demonstrates always a great intelligence in the choice of repertoires in addition to undisputed qualities of interpreter. This record, in particular, is revealed especially suitable to her for stylistic and careful affinity of understanding of the compositions he engraved..." Claudia Abbiati, Amadeus Magazine (Italy), July 1, 2018
Nordbayerischer Kurier, Review for concert shared with Daniil Trifonov at Markgräfliches Opernhaus in Bayreuth
"...Freilich hat sie den Abend weit mehr als nur gerettet. Großer Beifall des internationalen Publikums."

"...She certainly did much more than save the evening. Grand appluase from the international audience."

Fantastic review on French magazine Télérama
"The highly sensitive playing of the Israeli pianist adapts to the entire palette of moods of the German composer Robert Schumann... remarkable artist... As a final bouquet, the nine miniatures of the scenes of the forest, revive under her fingers with delicacy and an unexpected evocative power." published July 10, 2018

https://www.telerama.fr/musiques/scenes-and-fantasies,n5724472.php
Great review of Schumann CD from HRAudio
"Yarden proves once again being amongst the best pianists around...she ably creates an ambiance of dreamy resignation leading into troubled dismay; a masterly portrayal of opposing elements... engaging soul searching tour..
A deeply moving account, landing her audience in the more peaceful waters of the final movement: a love song, lovingly played." by Adrian Quanjer, HRAudio

https://www.hraudio.net/showmusic.php?title=12978#reviews
Süddeutsche Zeitung Review by Wolfgang Schreiber
"...die frühe C-Dur-Fantasie mit farbenreicher Kraft und Konzentration, die reifen Waldszenen eingebettet in poetische Charakterisierungen... Von den drei späten Fantasiestücken op.111 besticht zumal das zweite, das längste, "ziemlich langsam" überschrieben. Die Pianistin hat für das Stück viel aufgestaute Energie und einen schlichten, ausdrucksstarken Tonfall --- Wolfgang Schreiber, Süddeutsche Zeitung
Classic FM - Album of the Week
"The Israeli pianist Einav Yarden shines on this album of the week with music by Robert Schumann. Having previously beautifully performed the music of Beethoven, Stravinsky and Haydn, she now ventures to one of the most colorful and complex figures of early German Romanticism... Einav Yarden performs these pieces in an excellent way. She brings clarity to the structure and shape of the pieces and her play is extraordinarily poetic and intimate. Herewith she beautifully demonstrates her empathy in the noisy period of Schumann." Classic FM, Netherlands

American Record Guide - Haydn CD Review
It is Yarden who strikes the right balance, I think. Her performances are lively, intelligent, and have just the right degree of expressivity...This is my favorite among the three recordings" American Record Guide, Bruno Repp (in comparison of three new Haydn piano sonatas CD releases)

Great review on UK's Gramophone Magazine!
"What an enterprising programme from the Israeli pianist Einav Yarden. She eschews the obvious, choosing six of Haydn's middle-period sonatas which offer a microcosm of his endlessly varied world and she responds to each with great characterfulness. That is evident from the first sonata here, the F major (No 29), whose first movement satirically juxtaposes the most highly contrasted ideas: Yarden allows the humour to speak for itself, whereas Marc-André Hamelin tends rather to underline the jokes. Her way with the minuet finale, with its dolorous syncopated trio, is also spot-on.
She delights in the physicality of the Allegro of the D major Sonata (No 24), with its repeated-note figuration that simultaneously looks back to Scarlatti and forwards to Beethoven; its operatic D minor slow movement has a beautiful sense of line and she switches effortlessly back to freneticism as the Presto breaks in.
Every sonata seems to spring a surprise, not just musically but compositionally too. So we have as the second movement of the E flat major (No 25) a two-part canon which manages never to sound contrived; this follows a far-reaching Moderato which moves from mock-pomposity to gleefully upbeat writing. If Hamelin again is inclined to overdo the contrasts a little, Jean-Efflam Bavouzet is the most subtle of mischief-makers. In the A major (No 26) Haydn borrows the palindromic minuet from his Symphony No 47, and then follows this with a brilliant blink-and-you-miss-it finale; here, Yarden is fleet and airy, though her accentuation certainly doesn't lack bite.
The best-known sonata here is the B minor (No 32). Perhaps the highlight of Yarden's reading is the Minuet's Trio, captivatingly played; in the driving finale she balances the dramatic and the filigree to a nicety... Yarden clearly has much to say in this repertoire and she's beautifully recorded too."

--by Harriet Smith
http://www.gramophone.co.uk/review/haydn-piano-sonatas-einav-yarden
Haydn CD Awarded Preis der deutschen Schallplattenkritik!!!
Haydn CD awarded the Preis der deutschen Schallplattenkritik Bestenliste!
From the Jury of the "German Records Critics' Award" :
"Die Pointen sitzen, die langen Melodiebögen finden punktgenau ihr Ziel, und die Bassfiguren verharren nicht im Begleit-Status, sie nehmen Einfluss auf das gesamte musikalische Geschehen. Wo auch immer man in diese Auswahl an (weniger bekannten) Sonaten von Joseph Haydn hineinhört, wird man reich beschenkt. Ob Echoeffekte, kleine lyrische Oasen oder rasche Tonwiederholungen - Einav Yarden holt diese Musik aus der Ecke des Behaglich-Vergnüglichen heraus, wo sie fälschlicherweise abgestellt wurde, und präsentiert sie, übertragen auf das moderne Klavier, unverstellt und lebendig, mit Nachdenklichkeit und Humor. Dank dieser stilistischen Sicherheit erscheinen die Sonaten wie kleine Theater-Stücke! (Für die Jury: Christoph Vratz)

http://www.schallplattenkritik.de/bestenlisten/827-bestenliste-3-2016
CD-des-Doppelmonats (CD of the Bi-Monthly Issue) on Piano News Magazine, Germany
Haydn CD selected as the CD of the Bi-Monthly Issue on Germany's Piano News magazine (Sept-Oct Issue). From the accompanying review (to be translated soon): "Mit Finesse und einer sensiblen Tongebung gestaltet sie die meist einfachen Motive, die Haydn mit harmonischen Wechseln und Verzierungen weiterentwickelt. Der moderne Flügel wird unter Yardens Händen zu einem Mittel, das der Pianisten die Möglichkeiten unterschiedliecher Klangfarben bietet: zwischen Hammerflügel und der Klangweite eines modernen Instruments.... Einav Yarden ist sich jeder Nuance im Zusammenhang des Geschriebenen bewusst, gestaltet geschickt, ohne zu (den heutzutage üblichen) Übertreibungen zu neigen, sondern lässt der Musik bei aller Gestaltung ihren natürlichen Fluss. Das ist großartiges Klavierspiel und Yarden beweist einmal mehr, zu welcher künstlerischen Größe sie fähig ist" --- Carsten Dürer, Piano News Magazine
Haaretz Newspaper CD Review by Amir Mandel, Israel
"… In her last CD, Yarden presented Beethoven and Stravinsky, and excelled in demonstrating their novelty. Here she unveils the freshness and force of inventiveness and newness also with Haydn. The playing is clear, precise and finely crafted, and fascinates also with a wide range of colors, delicate dynamics and beautiful relations between the movements...This is a CD I will come back to."
-- Amir Mandel, Haaretz Newspaper, Israel
http://www.haaretz.co.il/gallery/music/classicalmusic/.premium-1.3083957
Frankfurter Allgemeine Zeitung (Sonntagzeitung)
"Einav Yarden…a passionate advocate for the smallest details"

Beautiful review on Stereoplay Magazine, Germany by Attila Csampai
"...Mit großer intellektueller Souveränität, mit Feingefühl für Haydns subtilen Humor, und insbesondere mit ihrem glasklar­ prä­gnantem Zugriff schafft es die 37­-jährige Pianistin, Haydns trockene musikalische Logik mit Leben anzureichern, und mit feiner Agogik den inneren Gestenreichtum, und den menschlichen Puls dieser elementaren Strukturen plastisch auszuformen, sodass der immense substanzielle Reichtum dieser Miniatur­ Sinfonien deutlich und als Prozess ständiger Überraschungen für den Hörer erfahrbar wird. Mit unbeirrbarem timing, flüssigen Tempi und präziser, pedalfreier Artikulation verweist Yarden zudem auf Haydns neue Chronometrie, die wie eine tickende Uhr den neuen, objektiven Lebenspuls schlägt: Die Zeit wird kostbar und jeder Takt enthält Essenzielles. So überrascht uns Haydn in der Sonate Nr. 39, der er dem Fürsten Esterházy widmet, mit einem seiner schönsten, eindringlichsten Adagio­ Sätze ­ und Einav Yarden gestaltet auch diesen schmerzlichen Monolog mit einer Zärtlichkeit und schutzlosen Schlichtheit, die Haydns tragischen Andeutungen eine größere Wirkung verleihen als jeder große Gestus. Die in Berlin lebende Leon­ Fleisher­ Schülerin findet hier auf Anhieb die richtige Balance von intellektueller Klarheit und emotionaler Sensibilität, Humor und Empathie, struktureller Strenge und lebendig­impulsreicher Spielfreude. Farbenreicher, knackiger Klavierklang, der auch im Mehrkanalmodus genügend Präsenz bereithält. Nach diesem Album bist du ein Haydn Fan, garantiert." --- Review by Attila Csampai, Stereoplay Magazine, September 2016 Issue
Preis der deutschen Schallplattenkritik - German Records Critics' Award
"Wherever you listen in this recording, you will be richly rewarded… she presents this music vividly on the modern piano, with no obstruction, full of reflection and humor."
-The Jury of the Preis der deutschen Schallplattenkritik, August 2016

CD of the Week and Review of Panel on Radio 4 Netherlends
"With the right people there is no better music than Haydn's, it is full of imagination, wonder, contrasts and boldness, but you have to dare to play it that way. If it gets only slightly academic it looses its strength and gets dull. This performance is enlightening and exciting".
Daniel Rowland, Diskotabel Radio 4
HRAudio CD Review
Yarden shines with a delicate and disarming frankness as well as transparent simplicity... This is a fine recital, which can safely be taken as a prime recommendation for enlarging your collection.
-- HRAudio CD Review, Adrian Quanjer
Fono Forum, Germany, Christoph Vratz (August Edition) - Five Stars
(For the original language, click on 'German' at the top right corner)
"What an unusual selection: first, because it consists solely of sonatas by Joseph Haydn, and second, because the pieces are without exception from his middle period, all stemming from the years 1773-1776. Einav Yarden displays an inventively intelligent Haydn, full of wit and abundance, with a delicate, varying touch. From the opening of the D major sonata no. 39, she unveils a grand theater, with dramatic density in the powerful base, and with delicate piano and pianissimo enclaves that temporarily lift the curtain for completely new scenery. Yarden doesn't play so harried, as one occasionally hears in Hamelin's Haydn recordings; her playing is more finely-spirited and artful than Ekatarina Dershavina in her Haydn recordings; Yarden's style lies in the vicinity of Yevgeny Sudbin, and furthermore within the radius of Brendel and Schiff. She knows how to storm through this music with chic, as in the Presto-Finale of the A major sonata no. 41, wherein with tiny modulations of tempo she attains great effect, and through the runs her fingers virtually bubble intoxicatingly, before heading to the short, full concluding chords. Next to these stand the slower movements, as that of the F major sonata no. 44, where after a few bars the treble melody sings out and the accompanying material consists of only subdued chords – an almost recitative-like passage, before the arioso theme rises, while supported by only a minimal use of pedal. In this way the melody can unfold vocally, because at the same time the assistance of the left hand is cleverly deployed. With refined technique Yarden handles the many repetitions of the Finale in the closing B-minor sonata no. 47, with many transitions, runs and echo effects. This brings us back to the Theater. Yarden plays a wonderfully exuberant, vibrant Haydn, glowing, transparent, adventurous, at times intimately chamber-music-like, at times grand and orchestral. A voice for Haydn!"

Christoph Vratz, Fono Forum Magazine, Germany, August 2016


New Haydn CD Review by David Rohde
"Nobody does "funny" on the piano like Einav Yarden. Okay, she gets a lot of help from Joseph Haydn, the classical master who was a mentor to Mozart and teacher of Beethoven. But like jokes in a written script, it's all in the delivery and timing.[...]
That's what Einav brings here, with Six Piano Sonatas that are varied gems of inspiration and inventiveness. Her tools are hills and valleys of dynamics, extra little split-seconds of rests followed by cascading notes, and a robust bass line that matches left-hand articulation to the right-hand filigrees.[...]
Listen to Einav's interpretation with the image of several balls bouncing down a hill or a decorative water fountain doing choreography, and the sense of playfulness and controlled acceleration will come to life beyond the abstraction of instrumental music. As a sneaky little trick, then call up a YouTube video of one of the 20th century's greatest pianists, Sviatoslav Richter, playing the same piece and tell me you are not comparatively bored to tears.", By David Rohde
To read the full review, go to: http://dcmetrotheaterarts.com/2016/06/09/midyear-cd-review-evocative-oboe-witty-haydn-new-take-duke-ellington1/
La Lettre du Musicien, by Frédéric Gaussin
Direct, incisive, and always intelligible, this pianist instantly marvels us in two of Haydn's works (Hob. XVI 24 and 31). She plays gracefully and elegantly with an expressive, spiritual and extremely ornate script, complete with tasty frictions, imitations in canons, sharp trills, leaping drums, and cascades of sextuplets. With clarity and focus, clean lines, and free from all frills, the quasi baroque central Allegretto in the Sonata in E major sounds as pure and beautiful as Bach's music. In but a few brief pages, conceived organically with long arches, the former student of Leon Fleisher reveals her character: complete respect for rhythmical values and patterns, an understanding of phrasing that is both sharp and unfailingly followed through, awareness of form, a strict organization plan, due care for timbre, sound, and precise pedal usage. Her attention is instinctively drawn to the overall structure, rather than to impeccable finger technique per se. This allows the pianist to communicate the work's inherent meaning with magisterial and quiet authority.
The Sonata in G major by Schubert (D.894) reaps all the benefits. The musician draws unexpected colors from the keyboard, fearlessly allows silence to breathe, and is animated by a living pulse (similar to Liszt's tree, whose leaves undulate in the wind without shaking its base). She has a wide repertoire of motifs, and casts different lights as she brings them to us. The changing narrative, climate and psychology are incrementally encapsulated by the modulations of the text itself, via harmony instead of by resorting to artifice.
Yarden was highly acclaimed; sang Widmung with the same spontaneous impetus, as successive waves surged. The theme of Schumann's famous lied transcribed by Liszt was approached sotto voce, with exquisite humility, and filled with new echoes at each utterance. It swelled and enlivened its audience all the way to the passionate declamation, supported by some arpeggio laces, and the inflexions of Rückert's poem that one could almost hear. This marvelous program concluded with the pleasant Argentine syncopations of Stravinsky's Tango. (April 7).
Translation from French: Brigitte Sion
http://www.lalettredumusicien.fr/s/articles/4412_0_einav-yarden-une-pianiste-au-goethe-institut

The Washington Post, Stephen Brooks, USA
"In her debut album released last year, "Oscillations," Israeli pianist Einav Yarden paired Beethoven with Stravinsky to striking effect, merging that unlikely couple with imagination and exceptionally vivid playing.
Yarden brought those same qualities to the Phillips Collection on Sunday in a recital of Bach, Ravel and Schubert. The afternoon [...' showed Yarden to be a probing, incisive pianist with a beautiful sound and an impressively transparent touch.
That transparency was quickly evident in Bach's English Suite No. 2 in A Minor, which opened the program. If you like Glenn Gould's Bach, you'll like Yarden's. It is crystalline and precisely balanced down to its molecules, with superb voice-leading and a sense of purpose in every note. Yarden might not have demonstrated the hyper-immaculate technique that has become the new normal in classical music, but [...] she turned in a reading with something much more important — a sense of immense majesty, tempered by gentleness and quiet grace.
Maurice Ravel's "Valses nobles et sentimentales," from 1911, gave Yarden an opportunity to display her more lyrical side. The suite of eight waltzes still sounds adventurous and even edgy, and Yarden seemed to revel in its quick shifts of light and dark, its shimmering textures and its playful, sly wit. She brought the same clarity to Ravel that she brought to Bach.
Piano recitals often close with a high-octane piece designed to get the pulse racing, but Yarden chose Schubert's Piano Sonata in G, D. 894, a work that glows with serenity for a good half-hour, then just sort of falls asleep. There's little of the heaven-storming that Schubert dishes out in his other sonatas, but Yarden brought a quiet sense of drama to the work, and the delicate mix of wistfulness and thundering that she found in the Andante was worth the price of admission.
Still, it was a welcome treat to hear Stravinsky's "Piano-Rag-Music" as an encore. This spirited, jagged work from 1918 (think Cubist jazz, with a Russian edge) is not often heard, and Yarden's quick, lively reading brought it to life.
International Record Review, UK, by Stephen Pruslin (CD Review)
"…I listened to the two Beethoven Sonatas first, and it was immediately apparent a great virtue of Einav Yarden's playing is that she not only observes Beethoven's dynamics and articulation marks scrupulously, but (and this is much more important) she understands the reasons for his markings, so that it is their musical intelligence that she conveys to the listener. […] Yarden's semi-staccato touch in the left hand is utterly delightful and I have never heard anyone else play the moment in this way. Her finger work is immaculate: every demisemiquaver (32nd note) scale in this movement (and there are many of them) is placed with complete clarity and fluency. These virtues continue throughout the outer fast movements[...]. At the same time Yarden posesses a firm legato wherever relevant. [...] The short Stravinsky pieces are actually bagatelles in the most usual sense: they are entertaining, sometimes jazzy (Piano-Rag Music), ironic (Tango), or naive (Valse pour les enfants), wherein Yarden understands that to play it properly, one must simultaneously be an adult "telling a story" to a child and an adult who can recapture her own childhood"... (to read the complete review, go to 'downloads')

Der Tagesspiegel, Germany, by Isabel Herzfeld,
"…Einav Yarden astounded with a mature, interesting profile.The prizewinner of the International Beethoven Competition in Bonn performed a rendition of the master's [Beethoven] Bagatelles with glistening fingering, accentuated ruptures and innovative contradictions. Also an unknown D-major Sonata by Haydn sparkled with intelligent humor.In the cleverest demonstration of the day, she presented György Kurtág's "Játékok", cryptic interludes accompanied by musical "fundamental particles" by Isabel Herzfeld
DC Metro Arts, review by David Rohde
A packed house at the Phillips Collection could have been forgiven if they thought that pianist Einav Yarden had magically switched out Steinway grand pianos between numbers.
The Israeli pianist, making a return to our region since her days studying with piano legend Leon Fleisher at Baltimore's Peabody Conservatory, brought her growing international reputation for drawing remarkable contrasts and connections among dissimilar parts of the piano repertoire to Phillips in its Sunday Concerts series.
Ms. Yarden began her program with Bach's English Suite #2 in A minor....Key to Ms. Yarden being able to do both with the same instrument is her uncanny mastery of the sustaining pedal. Unlike even some renowned pianists, she absolutely never "cheats" in very fast passages by smearing notes together with the pedal. Thus the Bach suite had the quality of space in between even rapidly running notes, especially in fast dances like its "Courante" and "Gigue" movements.
Yet the Ravel waltzes on the same piano had the magical quality of sustained background chords, with each notional "melody" – often really a set of notes or note clusters linked across various registers in the piano – clearly presented in phrases pulled together by the pedal for no shorter nor longer than was required to isolate them.
As soon as Ms. Yarden began the second of the eight Ravel waltzes, marked Assez lent avec une expression intense [...]the piano in the Phillips' Music Room seemed to have completely transformed from the harpsichord-like quality of Ms. Yarden's Bach rendering to the dreamy, almost orchestral world of Ravel.
To read the full review: http://dcmetrotheaterarts.com/2014/12/09/pianist-einav-yarden-phillips-collection/
FonoForum, Germany, March 2014
"Vor aliem aber spricht ihr Spiel weit mehr von Ausgleich als von Kontrast. Es ist pianistisch und musikalisch perfekt harmonisch, dazu vorbildlich klangschön und insofern bestnotenverdächtig."
Piano News Magazine, Carsten Dürer, Germany
"Her concept works, thanks largely to Yarden's mesmerizing pianism. With exceptional sensitivity and from her quite individual perspective, she manages to extract a degree of logic from the Beethoven sonatas that one hears only rarely in young pianists. She astutely gauges the design of each movement with playing of classical rigour and a restrained but refined range of dynamics, using little pedal and almost suggesting the sound of a fortepiano. Yet she also manages to convey the music's urgency and tension. The roundness and warmth of her tone immediately capture the listener's ear. She is able to bring an uncommon transparency to the sound of the Stravinsky works. Her playing of his sonata is genuinely "classical", in the best sense of that word, with an ear for the Russian composer's reminiscences of musical traditions, which are audible everywhere. Moreover, she plays with extreme rhythmic precision and is undaunted by technique in her choice of tempi...Closing with more Beethoven, his late Bagatelles Op. 119, the pianist is again persuasive with her sophisticated combination of exactitude and natural rubati. A fascinating debut CD from a marvellous musician." (full review in 'downloads')
The Magazine chose the CD as the 'CD des doppelmonats' (the CD of the bi-monthly issue)

International Piano Magazine, Benjamin Ivry, United Kingdom
"...an exemplary CD anchored by a vividly insightful rendition of Beethoven's Sonata No 6 in F major, Op 14 No 2...Yarden offers warmly humane wit and animation. Stravinsky's substantial 1 924 Sonata and his shorter dance-inspired works all benefit from this reading.Yarden has the intelligence to imply that when Stravinsky wrote a polka, waltz or tango, it transcended the popular dance genre to become a commentary on human aspirations and experience... As a former student of the eminent pedagogues Leon Fleisher and Emanuel Krasovsky, both masters of metaphysical insights into Beethoven's sound world, Yarden has clearly absorbed a profound understanding of Romantic and modern pianism. I look forward to hearing her perform Schubert, Brahms, Webern and Shostakovich."

DC Metro Arts, CD Review by David Rohde
Does Beethoven make you laugh? Does Stravinsky make you dance? No? Then you need to hear Israeli pianist Einav Yarden interweave these two composers' music in her debut album Oscillations.
In her album notes, Einav sets out to find how both composers – writing a century apart and with an entirely different tonal vocabulary – juxtapose drama with humor and sincerity next to mischievousness. To find that nexus requires more than the simple piano chops that dozens of young pianists on the international scene bring to the table. Einav employs superb dynamic sense, stellar pedaling technique, and exceptional "voice-leading" – the ability to find and tease out internal melodies from a massive cornucopia of notes – to make the piano tell a tale. [...]in the third movement of Beethoven's Piano Sonata #6 [...]. Not only do I practically crack up every time I hear Einav joyfully execute this sequence, but the album continues the humor theme in a number of pieces. With great gusto she plays a polka, a waltz, a rag and a tango by Stravinsky, reveling in their fascinating early 20th century distortions, very much like explorations by Picasso and other artists of the time of the classical forms in their own disciplines.
To read the full review:
http://dcmetrotheaterarts.com/2014/12/23/standout-cds-three-rising-classical-artists-einav-yarden-yevgeny-kutik-danielle-talamantes2/
Noam Ben-Zeev, Haaretz Newspaper, Israel
"…Einav Yarden, who played Beethoven in her unique way – with restrained emotion that penetrates the heart, and technical perfection that by itself added another dimension to the experience of the music."
Harris Goldsmith, Musical America 2008, USA
"…From the instant her inspired fingers touched the keyboard, it was clear that [Ms. Yarden] belonged among the top-flight of her generation. Her resume is formidable… huge talent…We shouldn't have to wait very long."
Luister Magazine, The Netherlands (CD Review)
Exquisite Dramaturgical Total
"...The genius thing with Yarden is primarily her unprecedented high pianism in terms of the ultimate mastery of her instrument (no wish stays unfulfilled!), But most of all, the way in which all these diverse characters, not only within the program as a whole but also in the different pieces, managed to come together into a seamless exemplary total, especially in dramaturgical respect."
Ulrich Bumann, General-Anzeiger, Bonn, Germany
"…Einav Yarden regaled these small stories [György Kurtág's "Játékok"] with exceptionally vivid articulation… Even in Béla Bartóks bagatelles op. 6, and especially in Beethoven's eleven bagatelles op. 119, not a detail escaped the pianist, who placed third at the Beethoven Competition of Telekom two years ago. She plays powerfully and with lots of energy, audacious from time to time, taking well-founded artistic liberties, and has a feel for poetry in the music […].
A good example of this was the heartfelt playing of Beethoven's last bagatelle, which offers enough material for an entire concert in just a few measures. Robert Schumann's "Humoreske", the main piece of the evening, is not just a challenge from a technical point of view. It is a matter of intertwining the pieces of these varying moods into a whole, seamless piece. Yarden achieved this with an inquisitive narrative flow, which gave her interpretation the beautiful character of an extended improvisation. With two Liszt adaptations of Schumann songs ("Frühlingsnacht" and "Widmung"), Yarden stayed true to the motto of the piano summer - "Trans-Liszt". Whether or not you like the Liszt thunder for Schumann, when "Widmung" is played with such divine and ecstatic perfection, you can't help but become enthralled by the music."
translation: Zacary Mühlenberg
The Independent, UK
CD Album review: "The Sonatas chosen here share an exuberance of spirit skilfully evoked in Yarden's bright, inventive playing. The Stravinsky has an almost impersonal, mechanical bustle compared to Beethoven's more languid refinement, but their shared joviality and polymorphism [...] bridge the distance implied by time and style"
The Independent, UK, by Andy Gill
CD review: "This is an unusual juxtaposition of seemingly incongruent composers [...], but the Sonatas chosen here share an exuberance of spirit skillfully evoked in Yarden's bright, inventive playing."
Valerie Kahler, MPR (Minnesota Public Radio), Classical Notes
"I had the good fortune of catching Einav Yarden's recital this evening. Holy mackerel.
Wow. Right out of the chute she had me sitting on the edge of my chair. She played a bunch of Gyorgy Kurtag's "Games" and they were alternately percussive and gossamer, playful and menacing. The opening movement (Perpetuum mobile) was one back-of-the-hand measured glissando after another. Her control was deadly - there were so many ways that could have sounded like a parlor trick, but it was SO perfectly precise as to be remarkable. She played another set of Kurtag's Games after her Haydn Sonata, and the last one (The Mad Girl with the Flaxen Hair) made most people laugh out loud. Imagine Debussy's Girl...from an alternate dimension. The Haydn sonata was a lovely balance between sit-up-straight precision and beer-garden minuet, the Schumann Kreisleriana was wonderfully colored & emotionally nuanced...but it was the finale that made my jaw hit the floor."
Daniel Tucker, Chicago Tribune, USA
"Whatever the equivalent of a batting average is in music, the Myra Hess Concert Series has been racking up an extraordinarily high one. It moved a notch higher July 18 with the appearance of Einav Yarden… who plays with an authority and a beauty of sound that one simply does not expect from anyone that young.

"Yarden showed commanding technique plus the ability to bring out each composer's personality. In neither piece did she strike a perceptible wrong note. That test doesn't count for much in itself – a performance with a fistful of wrong notes can still be exciting. Still, just as an achievement, an error-free concert is somewhere up there with a hole in one.
"In Yarden's performance everything had been thought through and matched against a very high standard of musical judgment. Then it was played flawlessly.
One can't ask for much more"
Francis Albou, L'Union, France
"Einav Yarden…a fire-like pianist in a delicious musical bouquet in which the historic chronology was merrily distorted. Beethoven, Stravinsky, then Haydn and Prokofiev. The organization of the program immediately announced the strong personality of the … Israeli female virtuoso. The rustic G major sonata by Beethoven was delicate and refined, conceived to be played in the tone of a confidence between friends… The burning dialectic of the development set things in balance…the andante variations were splendid: Beethoven handling humor, rather than drama! … The final scherzo, a delicate joke with its malicious rhythm, terminates the sonata with audacity and mischievousness as well.

…In the three Stravinsky pieces (the stunning neo-classical sonata, the malicious Tango, and then the Waltz given as an encore), the pianist let us into her wide technical abilities, her surprising palette of colors, and her burning personality. One would think that the mythical Martha Argerich was like her at the same age …

The same light bathed Haydn's 39th sonata, a masterpiece with strong melodic contrasts, a glory of bi-thematism. The young pianist played this radiating work like a virtuoso… she did not forget to pour her heart out in the adagio, or to highlight its humor. How much panache in the final presto!

Nevertheless, in Prokofiev's 2nd sonata the discourse became really incandescent […] This is exactly the exaltation, the passion, the "cheek", unique to young creators of the early XXth century that Einav Yarden shared in her impeccable interpretation: her biting and hammer-like touch reminded of the "steel fingers" that fascinated the critics in the 20s! […]
Manuel Stangorra, Darmstädter Echo, Germany
"Right at the start of her performance, Einav Yarden demonstrated her musical prowess with her rendition of Debussy's "Hommage à Rameau". Whoever possesses such a measured, contemplative and intuitive talent for intonation is sure to attract a great amount of recognition. Yarden did not simply belt out the notes recklessly, but rather portrayed a profound view of the world, both sundry and reflective. Her performance revealed incredible self-discipline and vigor, drawn from her exemplary and calm posture.
With an almost uncanny ease, she unveiled the four-movement "Suite Bergamasque" from Debussy, sewing the parts together seemlessly as if cast from the same mold. Judging by her bedazzling ardency, Yarden would surely make an exceptional jazz pianist as well. Maurice Ravel's "Valses Nobles et Sentimentales" continued consistently in the same impressionist direction.
Her rendition of Beethoven's "Appassionata" Sonata op.57 in F minor proved to be an even greater success, unveiling yet another dimension of her musical talent with extreme manual dexterity meeting raw elemental force. One might accuse Yarden of having a certain propensity for romantic flair. Her music...in no way avoids the use of tempo rubato, but this is what gives it a sense of liveliness and dramatics. This is how the most intense of feelings are converted into sound. The pianist's performance truly enchanted her audience. Spectacular!

Translation: Zachary Mühlenberg
Ury Eppstein, Jerusalem Post, Israel
"…Yarden's touch is crisp, decisive and significantly accentuated, and her expression is captivatingly intense, charged with energy and persuasive."
Noam Ben-Zeev, Haaretz Newspaper, Israel
"…with Einav Yarden it came through in her perfect pianistic fluency. Yarden has what every pianist dreams of: a beautiful sound, lightness and spark, and a fantastic flexibility in style."
Michael Huebner, Birmingham News, USA
"Einav Yarden had much to offer the adventurous listener Sunday at her UAB Piano Series recital. Sidestepping the customary Liszt and Chopin showpieces, the Israeli pianist dug into some rarely heard works that deserve more attention… Stravinsky's Sonata, from 1924…She took complete command of this work, contrasting its complex counterpoint with simple tunes.
Yarden also tested her Haydn with the Sonata in D major, Hob. XVI:24, in a meticulous, beautifully layered performance that bristled with energy. The recital's closer, Beethoven's Sonata in E major, Op. 109, drove to a stirring finish"
Andre Peyregne, Nice-Matin paper, France
"Einav Yarden, beautiful Israeli pianist, with a name that suggests a garden (Jardin), offered us yesterday some beautiful bouquets of notes from her garden… We loved her way of playing – refined, full of emotion, and virtuosic"
The Jerusalem Post, Israel, by Max Stern
"The starlet of this all-Mendelssohn concert was Einav Yarden, a brilliant young prize-winning pianist who whisked through the Piano Concerto, Op. 25. Like a pixie from A Midsummer Night's Dream (the overture that opened the program). Her sure and secure fingers fairly danced over the keyboard with clear and purposeful focus."